Bailee Taylor, ATR-BC, LPAT, LMHC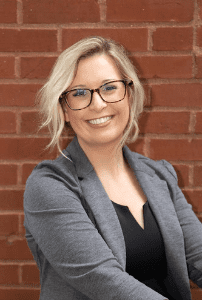 I have enjoyed working alongside and helping others achieve their goal(s) since I was a child. I was raised on Hoosier Hospitality and continue to reside in southern Indiana. I obtained my Bachelor of Science Degree from the University of Southern Indiana and Master's Degree in Art Therapy and Mental Health Counseling from Indiana University. I'm a Board Certified Art Therapist (ATR-BC) through the Art Therapy Credentials Board, Inc., a Licensed Professional Art Therapist (LPAT) with the state of Kentucky and a Licensed Mental Health Counselor (LMHC) with the state of Indiana.
While traditional talk therapy can be helpful for some, it is not for all. Art and other expressive therapies can be utilized as a tool to help people of all ages express, process and communicate their social and emotional needs when words aren't enough. I enjoy working with children ages 2+ and have specialized in helping others regulate emotions, decrease and cope with stress, anxiety and depression; increase self-esteem, social skills and mood; and process traumatic events. I apply a person centered, trauma informed and family structured approach in my work.
I have experience working with children, adolescents and families as an art therapist and mental health counselor since 2018. As a Certified Positive Discipline Parent Educator, I enjoy supporting parents in growing their parenting tool-kit.
Your story and what you choose to share is important to me and it is my hope to provide a place of safety, comfort, hope, healing and growth as you gain knowledge and obtain skills to use outside of our time together.
You can reach Bailee at baileetaylor@protonmail.com or 812-489–9203.
***Bailee works with children 2+, teens, & parents and is offering availability on Mondays and Thursdays at our Prospect Campus.  She also provides telehealth availability on Fridays for teens and parents. She accepts payment through HSA/FSA/HRA cards, cash, or check. She can also provide Out of Network Reimbursement forms for those with OON Benefits and has a limited number of sliding scale openings per month. Typical 45-minute appointments with Bailee are a $140 investment per session following the Initial Intake, which costs $190 and includes the development and planning of new clients' treatment plans.***