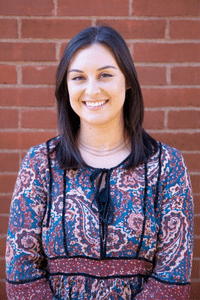 I work at the Prospect Campus. When I graduated from the University of Louisville with a Bachelor of Arts in Psychology and a Minor in Sociology, I chose to further my education at Campbellsville University. I graduated with a Master's degree and am now a Marriage and Family Therapist Associate under the clinical supervision of Heather Brooks, LMFT.
Over the years I have worked in various organizations such as Nonprofit Community Health, outpatient services, and school and home-based agencies across Henry, Oldham, Shelby, and Trimble counties. I enjoy working with children (ages 5+), teens, parents, families, couples, and adults.
My specialities include managing family dynamics, childhood behavioral issues, relationship stress, anxiety, and depression.
I utilize a variety of theoretical orientations, including Family Systems Theory, and Cognitive Behavioral Therapy and am a Certified Positive Discipline Parent Educator.
My goal as a Therapist is to provide a safe place for individuals, families, and couples, and I strive to offer a space where clients feel comfortable to be themselves and be challenged to reach their goals. It is an honor to work alongside each client as they work the challenges they face.
Carlie can be reached directly at 502-430-7452 or carliekellogg@protonmail.com.
***Carlie works with children 5+, teens, families, adults, and couples and is offering in person availability on Tuesdays, Thursdays, and Fridays at our Prospect Campus.  She accepts payment through HSA/FSA/HRA cards, cash, or check. She can also provide Out of Network Reimbursement forms for those with OON Benefits and has a limited number of sliding scale openings per month. Typical 45-minute appointments with Carlie are a $115 investment per session following the Initial Intake, which costs $150 and includes the development and planning of new clients' treatment plans.***