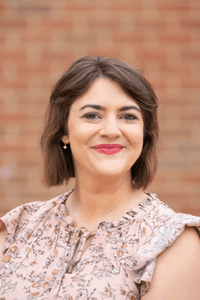 I am a Marriage and Family Therapy Student Intern at Creative Family Counseling's Prospect Campus.  I am currently pursuing my Masters in Marriage and Family Therapy at the Louisville Presbyterian Theological Seminary.
I am a native Louisvillian, and spent time in Wilmore, KY at Asbury University where I received a Bachelor's Degree in Missiology.  From there, I went on to work in interfaith college ministry in Northeast Ohio.  I am glad to be back in my hometown reconnecting with the city I love, and building therapeutic relationships with individuals, couples and families.
As a parent, I know the joys and challenges of raising children. The demands of life can bring about feelings of guilt, shame and overwhelmedness, while trying to meet our children's needs as well as our own.  My hope is to come alongside families and help them feel heard, supported and equipped.  Erica Myers, LPCC-S, RPT-S is my supervisor, and I receive additional supervision and support at Louisville Seminary.  I look forward to working together!
***At this time Lydia is offering availability for clients ages 4+, teens, adults, and couples.  She accepts payment through HSA/FSA/HRA cards, cash, or check. She can also provide Out of Network Reimbursement forms for those with OON Benefits and has a limited number of sliding scale openings per month. Typical 45-minute appointments with Lydia are a $25 investment per session following the Initial Intake, which costs $50 and includes the development and planning of new clients' treatment plans.***