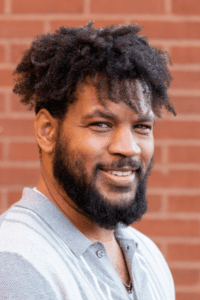 I am a Marriage and Family Therapy Associate who enjoys working with families, couples, individuals, and children ages 10 years old and older. My approach to the therapeutic relationship is to come alongside and join the client where ever they are. Each person holds the answers they seek within; I enjoy assisting in the exploration of those answers. I do this by forming a team with the client(s), Team You! Our team will work together to develop goals based upon your desired outcomes in therapy, and then I will develop treatment strategies to reach those goals. To accomplish this feat, we will explore your strengths and challenges. Your strengths will aid you in the development, self-realization, and the treatment process to reach your goals. Each client has their own super powers waiting to be unlocked.
I work with clients that are experiencing symptoms of anxiety, depression, grief & loss, relational distress, and trauma. I also have experience with the treatment of substance abuse.
As a Marriage and Family Therapy Associate, I am supervised by Brianna Davis, LMFT. My therapeutic approach is an integration of two modalities – Solution Focused Therapy and Narrative Therapy. When working with couples, I utilize the Gottman Method and Narrative Therapy for treatment. My approach helps my clients move toward the future they want while learning what can be done differently. The development of strengths and skills serve to develop resiliency.
I graduated from Capella University and have 2 years of post-graduate clinical experience, as well as two years of substance abuse treatment experience. My undergraduate was in Interdisciplinary Studies with a Focus in Communication and Organization of Ideas at Western Kentucky University.
It is important to me that clients feel safe, comfortable, and respected within every session with me. I will regularly ask for client feedback so I can choose an approach that best fits the client's need while they are on their journey of growth and healing with me.
You can reach Mark at (502) 251-8483 or markslaughter23@proton.me.
***Mark works with children 10+, teens, families, couples, & adults and is offering in person availability on Monday and Tuesday afternoons. He accepts payment through HSA/FSA/HRA cards, cash, or check. He can also provide Out of Network Reimbursement forms for those with OON Benefits and has a limited number of sliding scale openings per month. Typical 45-minute appointments with Mark are a $115 investment per session following the Initial Intake, which costs $150 and includes the development and planning of new clients' treatment plans.***