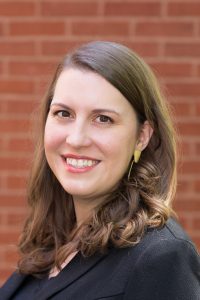 I am a Licensed Clinical Social Worker in Kentucky and Indiana with nearly a decade of experience working with clients of all ages. I am also a Certified
Positive Discipline
Parent Educator.  My approach is strengths-based and client-centered, and I bring warmth and acceptance into the therapy relationship. I see therapy as a partnership where through a safe, non-judgmental connection, you can tune into your authentic self and find deeper meaning in your life. I enjoy working with children, teens, and adults.
My primary area of specialization is in trauma-focused treatment, and I believe fully in the resilience of each person. I am trained in multiple research-supported interventions for children who have experienced trauma, including Trauma-Focused Cognitive Behavioral Therapy (TF-CBT), Child-Parent Psychotherapy (CPP), and Attachment, Regulation and Competency (ARC) treatment, as well as the Risking Connection framework for adult survivors of childhood abuse. I believe that relationships with safe, supportive caregivers make the biggest difference for children dealing with trauma or with a difficult change, and enjoy working with parents and caregivers to help them connect with, comfort, and advocate for their children. Even if you are looking to manage anxiety, depression, or a recent life change, I will bring a trauma-informed perspective to the therapy space, seeking collaboration, acknowledging you as the expert on your own experience, and creating a safe space for you or your child to feel supported and free during our time together.
Are you looking for a safe space to understand how your past experiences impact you now? Are the stories you have been carrying about yourself or others no longer serving you? Are you a parent looking to better understand and respond to your child's needs?
As a social worker, I am trained to look at the impact of social forces on our day-to-day lives. I recognize you as the expert on your individual experience and will affirm your knowledge of your own identity and how this shapes the way you move through the world. I am committed to providing a safe space for People of Color, the LGBTQ+ community, and people of diverse faith backgrounds. I value the ethics of my profession which mandate me to challenge forces of social oppression both within and outside of the therapeutic space, to promote social justice, and to uphold the dignity and worth of every person.
Born and raised in Houston, Texas, I graduated from American University in Washington DC with a BA in International Studies. My work internationally with peacebuilding and conflict resolution and my volunteer work at the DC Rape Crisis Center led me to a deeper interest in how people and communities find resilience. I completed my Masters in Social Work at New York University in 2012, and prior to moving to Louisville, I worked at community-based agencies in New York City and in Dallas with adult and child survivors of interpersonal violence and abuse. I also have community mental health experience, working with clients with a wide range of needs and treatment goals.
Nora can be reached directly at 502-237-8385 or Nora.Gardner@protonmail.com.
***Nora is offering availability Tuesdays, Thursdays and Fridays at the Lyndon Campus for children 4+, teens, families, and adults. She also has telehealth availability for teen and adult clients on Mondays and Wednesdays.  She accepts payment through HSA/FSA cards, cash, or check.  She can also provide Out of Network Reimbursement forms for those with OON Benefits and has a limited number of sliding scale openings per month.  Typical 45-minute appointments with Nora are a $150 investment per session following the Initial Intake, which costs $200 and includes the development and planning of new clients' treatment plans.***